Skateboarding and Engaging Teaching
I read an interesting article recently titled "Making English Classrooms Happier Places to Learn." in which the writer, Lynn Langer Meeks, discusses some  approaches that can make learning engaging: immersion, demonstration, expectation, responsibility, approximation, use, and response.
The writer uses this model to reflect on her observation of skateboarders learning with peers, and mastering such difficult moves. Skateboarders within groups make use of all of these learning approaches. One key idea she presents is that to learn skateboarding, a young person usually becomes a skateboarder.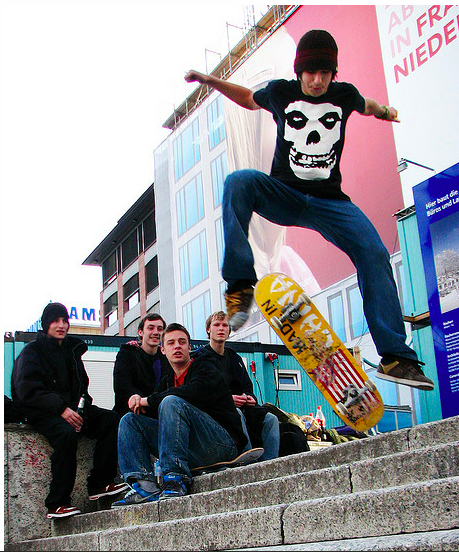 Up until I moved to Hong Kong, I enjoyed riding my skateboard. I liked going downhill or weaving through traffic, but I was never any good at tricks, mostly because I didn't like getting hurt. Skateboarding, does require a high degree of immersion, and I never became a "skateboarder." I did however learn to dj, and I did so by becoming a dj and becoming engaged in the way described in this article.
I realize when I dig into the lives of my secondary students that they enjoy learning, even if they have become disengaged or alienated from their schooling. They have peer cultures in which they learn all kinds of stuff. As a teacher, I try to transfer students' existing peer learning cultures to the classroom.  Schooling often requires students to enter the classroom with the culture of the dominant; my students tend to lack much of that particular capital, and therefore are labeled as not willing to learn. 
By observing my students on the playground, examining their art, paying attention to their  lives on Facebook, and watching their own videos from their mobile phones or watching the movies they recommend, I get a sense of their peer culture of learning. So for one of my classes, it has meant allowing times, especially during long writing tasks, when we become more relaxed in our postures, have more freedom to move around the room, and play music in the background. Of course I must also train them to work in the disciplined ways which are required in various environments, but allowing their cultures to become part our classroom fabric is also an important step in building a more engaging and empowering learning environment. Skateboarders use their peer culture to master complex skills. I am now using my students' peer culture to master writing and speaking academic English.